Craft Bakery
Designed for enthusiastic individuals keen to upgrade their knowledge. You'll learn how to create various breads and understand the underlying science of bread making..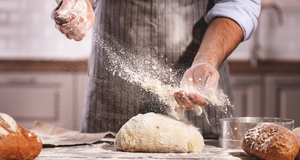 Swiss Artisan Bakery Program
This professional European bread & baking program is structured to be provide a meticulous insight into the fundamentals of bread baking.

It takes the student through a journey from grain to bread, teaching them aspects of natural science, nutrition, different product groups of baked goods, raw materials, semi-finished goods and working techniques.

View More
3 LEVEL COURSE
Discover an overview of our Swiss certified bread and baking program below.
Pastry Pro
Designed to explore the diverse world of Swiss confectionery, this program provides a complete insight into the art of fine pastry, chocolate and ice cream making.
Swiss Pastry & Confectionery Program
This program demonstrates how to produce classic confections while offering in-depth knowledge in the art and science of pastry, ice cream and chocolate making.

It subjects students to various principles of confectionery including product groups, nutrition, plating of finished products, working with different ingredients and techniques.

View more
3 LEVEL COURSE
Discover an overview of our Swiss certified pastry,chocolates & ice cream program below.